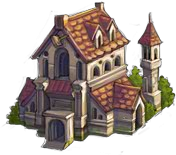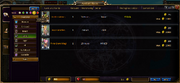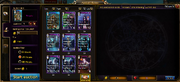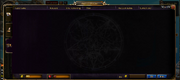 At the Auction House, players can buy and sell cards with other players. You will gain access to the Auction House once you hit level 35 or become a VIP.
To bid on a card, select the card you would like to bid for, enter the amount of your bid on the bottom right, then click the bid button. If there is already a bidder for a card you wish, your bid must be at least 5 gold higher than them. If you get outbidden, your spent gold returns via mail. Alternatively, you can click the buy it now button. Should you win a card in an auction, it will be sent to you in a mail message. Simply open the message and accept the attached card to add it to your collection.
To place your own card up for auction, select the type and quantity of card that you would like to sell, then enter a starting price and a buy it now amount. You can set a maximum of 15 auctions at a time. Gold will be taxed for each card placed based on the auction time set (3 gold for 8 hours, 5 gold for 24 hours, 8 gold for 48 hours). The Auction House does have a maximum price for cards, so you will not be able to sell your cards for more or less than a certain amount. Once you have set the price, choose how long you would like your auction to last, and click the start auction button. Once your auction has concluded, you'll be sent a number of rubies (as well as the gold you used while aucting your card) which can be used in-game to purchase many of the same items that you can purchase with gold. If for a given reason you want to cancel your auction, the game will warn you that the card will return to your mailbox, but not the gold you spent while placing it. The server as host takes 5% of the price (so if your card sells for 100 gold you gain 95 rubies), at a minimum 5 rubies interest (If your card is bought for 50 gold, you get 45 rubies).
Prices
| Rarity | Min | Max |
| --- | --- | --- |
| | 10 | 10 |
| | 10 | 50 |
| | 20 | 200 |
| | 50 | 1,000 |
| | 200 | 20,000 |
| | 3,000 | 200,000 |
| | 10,000 | 2,000,000 |
Community content is available under
CC-BY-SA
unless otherwise noted.