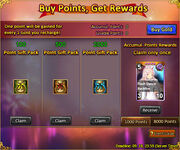 The Buy Point, Get Rewards event is a recharge event which rewards Gold

purchases with points which can be exchanged for gift packs. There are also milestones, which when reached reward special cards. Points acquired during this period will reset after the event.
Accumulated Point Rewards
Edit
There are 2 different events, each with 2 levels of milestones. Each event will have one special card with different ranks for each milestone.
In one, 1000 accumulated points will reward an Epic card, 8000 points reward a Legendary card.
In the other, 8000 points will reward a Legendary card, 30000 points reward a Godlike.
Cards can be redeemed once for each milestone.
Gift Packs
Edit
Points can be exchanged for 3 different gift packs. Each pack will contain one item from a set list with the chance of a second item. Points can be used to redeem multiple packs.
Epic/Legendary event
100 Points - Rare Void Gift Pack

Rare Void Gift Pack
Type:
Item
Rank:
Rare

Double-click


and you will probably gain one of the following items:
2 x

1,000 Silver Gift Pack


2 x

Crystal Gift Pack


1 x

Human Box


1 x

Elf Box


1 x

Undead Box


1 x

Halfblood Box


and may gain one of the following items:
1 x

Elite Pack


10 x

10 Gold Gift Pack


1 x

Bumper Cards Box

Sell price:  0


500 Points - Great Void Gift Pack

Great Void Gift Pack
Type:
Item
Rank:
Rare

Double-click


and you will probably gain one of the following items:
1 x

10,000 Silver Gift Pack


1 x

Crystal Gift Pack


1 x

Human Box


1 x

Elf Box


1 x

Undead Box


1 x

Halfblood Box


and may gain one of the following items:
1 x

Master's Pack


30 x

10 Gold Gift Pack


1 x

Mega Cards Box

Sell price:  0


2000 Points - Super Void Gift Pack

Super Void Gift Pack
Type:
Item
Rank:
Epic

Double-click


and you will probably gain one of the following items:
5 x

10,000 Silver Gift Pack


4 x

Crystal Gift Pack


1 x

Ring of Life


1 x

Ring of Bravery


1 x

Ring Perseverance


1 x

Ring of Wisdom


and may gain one of the following items:
5 x

Master's Pack


1 x

King's Pack


80 x

10 Gold Gift Pack

Sell price:  0

Legendary/Godlike event
300 Points - Great Void Gift Pack

Great Void Gift Pack
Type:
Item
Rank:
Rare

Double-click


and you will probably gain one of the following items:
1 x

10,000 Silver Gift Pack


1 x

Crystal Gift Pack


1 x

Human Box


1 x

Elf Box


1 x

Undead Box


1 x

Halfblood Box


and may gain one of the following items:
1 x

Master's Pack


30 x

10 Gold Gift Pack


1 x

Mega Cards Box

Sell price:  0


1500 Points - Super Void Gift Pack

Super Void Gift Pack
Type:
Item
Rank:
Epic

Double-click


and you will probably gain one of the following items:
5 x

10,000 Silver Gift Pack


4 x

Crystal Gift Pack


1 x

Ring of Life


1 x

Ring of Bravery


1 x

Ring Perseverance


1 x

Ring of Wisdom


and may gain one of the following items:
5 x

Master's Pack


1 x

King's Pack


80 x

10 Gold Gift Pack

Sell price:  0


5000 Points - Supreme Void Gift Pack

Super Void Gift Pack
Type:
Item
Rank:
Legendary

Double-click


and you will probably gain one of the following items:
2 x

100,000 Silver Gift Pack


10 x

Crystal Gift Pack


1 x

Mega Cards Box


5 x

Master's Pack


100 x

10 Gold Gift Pack


1 x

Lover's Ring


and may gain one of the following items:
5 x

Mega Cards Box


1 x

Lover's Ring


3 x

King's Pack

Sell price:  0
Minor and major recharge cards
Edit