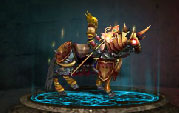 Mounts are a type of special equipment for the player. They can provide stat bonuses for the hero and/or units. Staging can increase these bonuses. Unlike most other equipment, mounts have a limited time they can be used, though they can be renewed.
All but Rare mounts have 3 stages In order to increase a mount's stage, the mount must given feed items called Fodder at the Stable. Staging cannot be conducted until your mount has reached a full feed.
All mounts are valid for a default 7 days. After this period, it will expire and will become unable to be equipped (already equipped mounts will simply not be used). Epic and Legendary mounts can be renewed in 7 or 30 day periods. The cost of the renewal will depend on the current stage of the mount.

 Note: The expiration countdown starts when the mount enters the inventory. If inventory is full, items are sent to the mailbox, unless the mailbox is full too, in which case further items will be lost. The countdown will not start on mail attachments, making it a good place to store spare mounts.

 Note: Mounts can also be stabled from the Inventory in the Hero interface. Click the "stable" button, then a mount.
Main article: Saddles
Saddles are items that can be equipped to the mount that can provide special abilities in battle. The chance and/or abilities improve with each stage of the mount. However, they will provide no bonuses unless the mount is at least stage 1. Rare mounts cannot use saddles.
Standard saddles can be created in the stable. Event saddles have a duration of 7 days. They cannot be renewed. Saddles dropped in VIP dungeon chest rewards do not expire.
Mount Stats
Edit
Bay

+2 Hero Crit
+2 Unit Crit

Roan

+2 Hero Crit
+2 Unit Block

White Horse

+1 Hero HP
+3 Hero Crit

Grey War Horse

+2 Hero HP
+1 Unit Crit
+1 Unit Block

Russet War Horse

stage 1
stage 2
stage 3
+2 Hero HP
+2 Hero Crit
+2 Unit Crit
+2 Hero HP

+2 Hero Crit

+3 Unit Crit

+2 Hero HP
+3 Hero Crit
+3 Unit Crit
+3 Hero HP
+3 Hero Crit
+3 Unit Crit

Copper War Horse

stage 1
stage 2
stage 3
+2 Hero HP

+2 Unit Crit

+2 Unit Block

+2 Hero HP

+2 Unit Crit

+3 Unit Block

+2 Hero HP

+3 Unit Crit

+3 Unit Block

+3 Hero HP

+3 Unit Crit

+3 Unit Block

Silver Charger

stage 1
stage 2
stage 3
+3 Hero HP
+2 Unit Crit
+1 Unit Block
+3 Hero HP
+2 Unit Crit
+2 Unit Block
+3 Hero HP
+3 Unit Crit
+2 Unit Block
+4 Hero HP
+3 Unit Crit
+2 Unit Block

Unicorn Mirager

stage 1
stage 2
stage 3
+2 Hero Crit
+2 Unit Crit
+2 Unit Block
+2 Hero Crit
+2 Unit Crit
+3 Unit Block
+2 Hero Crit
+3 Unit Crit
+3 Unit Block
+3 Hero Crit
+3 Unit Crit
+3 Unit Block

Champion's Destrier

stage 1
stage 2
stage 3
+4 Hero HP
+2 Unit Crit
+2 Unit Block
+4 Hero HP
+2 Unit Crit
+3 Unit Block
+4 Hero HP
+3 Unit Crit
+3 Unit Block
+5 Hero HP
+3 Unit Crit
+3 Unit Block

Unicorn Tempest

stage 1
stage 2
stage 3
+3 Hero Crit
+3 Unit Crit
+2 Unit Block
+3 Hero Crit
+3 Unit Crit
+3 Unit Block
+3 Hero Crit
+4 Unit Crit
+3 Unit Block
+4 Hero Crit
+4 Unit Crit
+3 Unit Block

Brimstone Unicorn

stage 1
stage 2
stage 3
+5 Hero Crit
+4 Unit Crit
+5 Hero Crit
+4 Unit Crit
+1 Unit Block
+5 Hero Crit
+5 Unit Crit
+1 Unit Block
+5 Hero Crit
+5 Unit Crit
+2 Unit Block