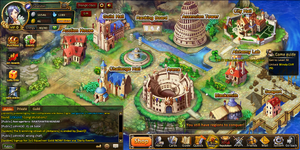 This is the town of Silver Heron Ridge, the town where everything begins.. and everything revolves around. As lord protector of Silver Heron Ridge, you'll make use of many of the amenities the city offers and help plot out future upgrades to city infrastructure to keep you and your armies in battle ready condition.
While in Silver Heron Ridge you also have access to a hotkey bar that grant you access to the bar on the bottom of the screen known as the Menu.
City Hall
Edit
The main building of the town where buildings can be upgraded by paying crystals. Also taxes can be collected to increase silver and crystals.
See more at: City Hall
Alchemy Lab
Edit
The alchemy lab is where players can combine, extract and fuse cards together.
See more at: Alchemy Lab
This is where players can make silver, gain experience and find crystals while offline by going on expeditions.
See more at: Seaport
Blacksmith
Edit
Items can be upgraded or enchanted here.
See more at: Blacksmith
Where players can challenge bots or real players to 1v1, 2v2 and 4v4 matches.
See more at: Arena
Challenge Hall
Edit
Players can fight bosses in the building.
See more at: Challenge Hall
Auction House
Edit
Where players can offer their cards to other players in exchange for Rubies . Players may bid on cards using Gold . 
See more at: Auction House
Guild Hall
Edit
Here players can see their guild's members and ranking. They also can donate silver to help their guild grow and level up.
See more at: Guild Hall
Ranking Board
Edit
Players can see their ranking here.
See more at: Ranking Board
Ascension Tower
Edit
By using a
Tower Ticket

Tower Ticket
Type:
Item
Rank:
Rare
Allows the holder to challenge the Ascension Tower once.
Sell price:  50
, players can challenge different bosses and move up toward higher floors of the tower and gain
crystal packs
.
See more at: Ascension Tower